I thought it would be a great idea to answer this commonly asked question; How to choose the perfect wallet? A wallet is one of those every day carry items that every man and woman needs. It is just practical to keep all your essentials like credit cards, driving license, money bills and receipts and much more nicely organized. Given how essential a wallet is for your everyday needs, it is essential that you choose the perfect wallet for you. For us, that is a great well designed leather wallet!
While wallets made with carbon fiber or metals are available to experiment with, nothing beats the beauty, function and durability of a well designed wallet made of leather.
As with everything in life, not all leather wallets are the same! There is a reason why some wallets cost $5 and some wallets cost $100 and some even cost €500! Let's break it down to the essentials on how to choose the leather best wallet.
Characteristics to consider when answering how to choose the perfect wallet?
Function of the wallet
Style of wallet
Quality of leather
Quality of construction
At the end of the article you can make an informed decision and hopefully I've convinced you on choosing a high quality handmade leather wallet.
Function of the wallet
Before answering how to choose the perfect wallet, it is important to firstly look into what you have in your current wallet and really take a hard look at if you need to carry all of it every time. I know, I been there! I also found train card that I haven't used for years. I also carried my airline bonus card everyday with me. I even found receipts in my wallet from 2012! Obviously, I carried a lot of junk in my wallet.
So, here was my principle decision. I only need to carry things in my wallet that I use at least once a week. Everything else can go in my backpack or I just carry it when I am specifically going to do the activity. A similar exercise could give you an idea of how many items you need to carry. Typically, about 8-10 cards, cash bills, a few receipts is what most people land on. One thing that might sound odd to people outside Sweden is that we Swedes are almost 100% cashless. We hardly every carry cash. All transactions happen with a credit or debit card. And obviously, now a days with our phones.
Hopefully now you have a clear idea of what you need to carry in your wallet and are ready to move on further in your knowledge on how to choose the perfect wallet?. Here is my personal wallet. 10 cards with 2 cards per pocket and receipts on the right hidden pocket.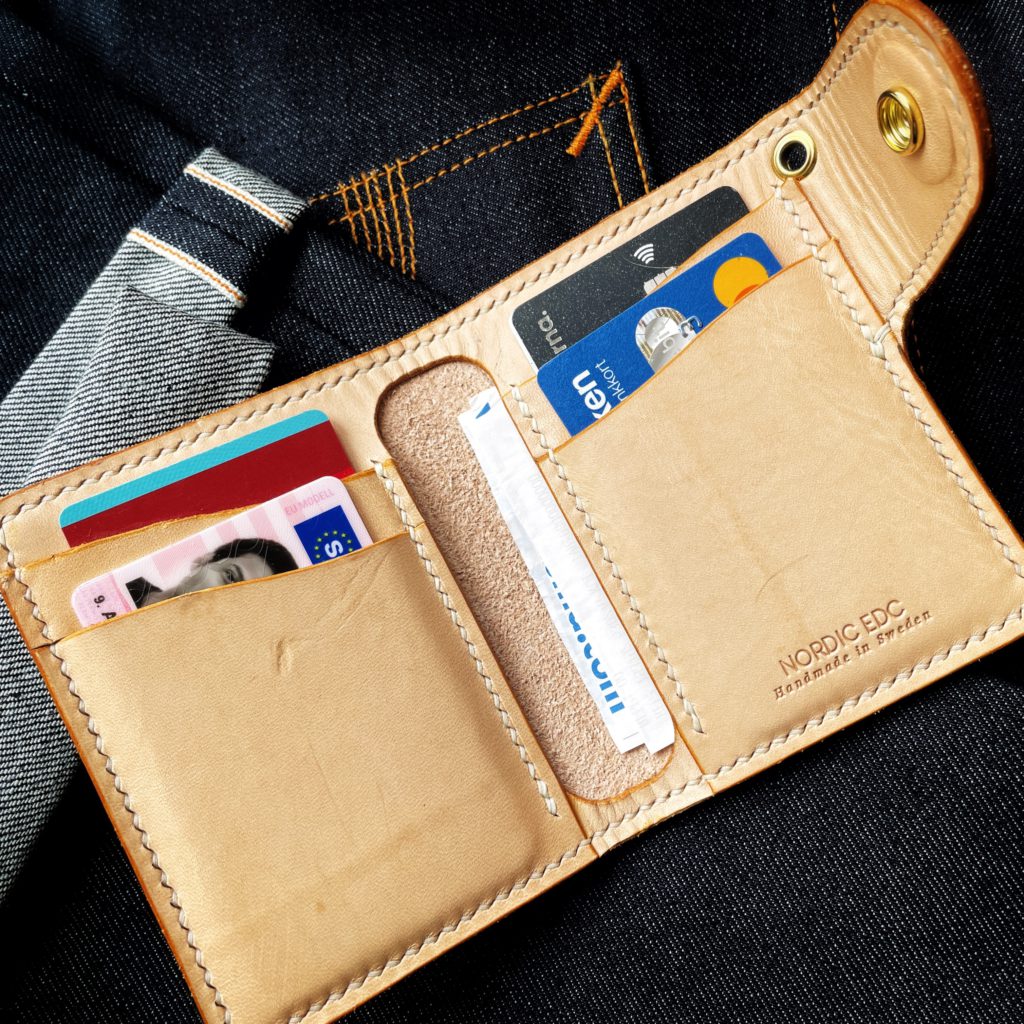 Style of Wallet
Everybody has a preference on which type of wallet you like when it comes to the form (look). There are card sleeves, minimalist wallets for only cards, bi-fold leather wallets and there are also snap bi-fold wallets.  It really is a matter of preference really. I really like the biker wallet style. With a snap button it feels really secure. However the down side is that this style is bulkier than say a minimalist wallet. However, we are Nordic EDC really make it a point to make our wallets as slim as possible for the function and style that we make them. Some of the ways we do it are shared in the section; quality of construction. Check out some of the styles we offer.
Quality of leather
This is probably the most important factor when answering how to choose the perfect wallet? Did you know that Genuine leather is the second worst leather that you can choose only slightly better than bonded leather? I was just as surprised as you when I learnt this. At Nordic EDC, we pride ourselves on using "heirloom quality" leather. But what does it really mean?
There are three general qualities of leather
Full grain leather – the highest quality leather that you should be looking for.
Top grain leather – also high quality leather but has gone through some corrections to refine it and remove blemishes.
Split grain leather – also called genuine leather. But don't fall for the marketing trick! This is actually the lowest quality of leather.
Bonded leather – we don't really consider this to be leather as it is basically glued leather waste. Stay away from this. Always.
And obviously, at Nordic EDC we exclusively use full grain vegetable tanned leather from the world renowned Tärnsjö Garveri in Sweden.
Image curtesy leatherworker.net.
Quality of construction
Without doubt the durability is the most important factor that determines the quality of construction. And usually, the most common point of failure on a wallet is the stitches. The best and the most traditional way of stitching leather is the centuries old saddle stitching.
Saddle stitching is done with only a few feet of thread at a time and must be made by hand. To create each stitch, the entire thread serpentines two times through the layers of leather. For the machine-sewn, lock stitch, 2 separate spools of thread are used. A sewing machine passes a small loop of thread through the top of the leather which interlocks with the thread from the bottom of the leather. Although machine sewing is faster and cheaper it usually creates a major stress point where the top thread loops with the bottom thread. Those 2 small threads are constantly trying to cut one another. A handsewn saddle stitch lasts much longer.  In addition to using thicker thread with hand stitching, each stitch is made up of two strong, independent, stitches. Unlike the lock stitch which will completely unravel, if a thread does break, the saddle stitch will still hold together.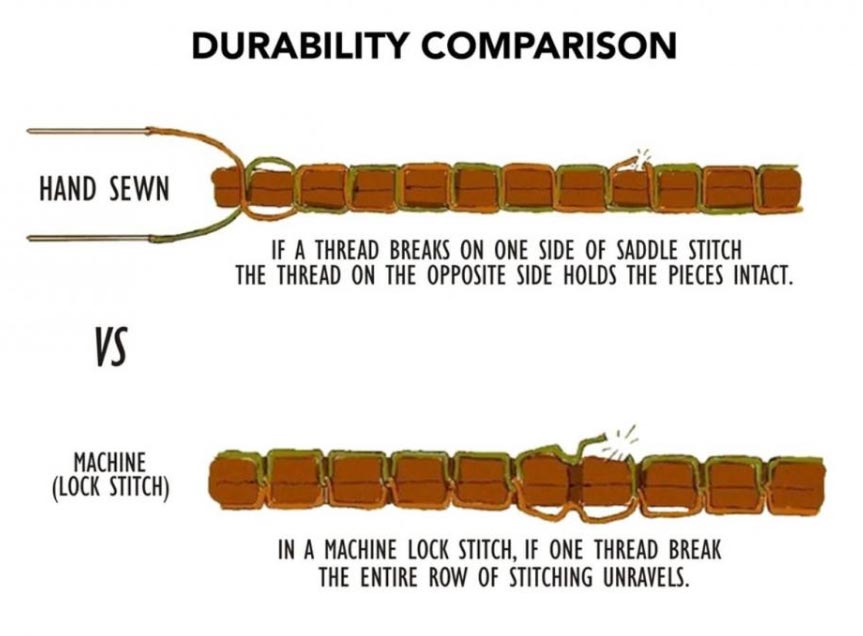 Image curtesy leatherworker.net.
Take Nordic EDC leather wallets, for instance; our wallets are hand sewn using a saddle stitch technique that guarantees a lifetime of use without falling apart. Additionally, we use a Ritza 25 Tiger Thread—the industry standard for quality in leather stitching.
Another important aspect of quality construction is the burnishing of edges. Burnishing refers to the process of sanding down and polishing your wallet's edges to a smooth finish. The process can be tedious and time consuming, but the results are worth the extra effort. Burnished edges on your wallet are testament to the manufacturer's attention to detail. We burnish all the edges with water and slicker. Then dye the edges with a natural leather dye and finish it by applying some beeswax and polishing it to a high shine. Beeswax protects the edges from rot in case the wallet gets a little wet. So do your research well and understand the construction of the wallets while understanding how to choose the perfect wallet?
Conclusion: How to choose the perfect wallet?
I realize I went overboard with writing a long one here. But if you've read this far then you really care for quality. So, how do we conclude this article about how to choose the perfect wallet and what should you remember?
Choose full grain leather wallets
Carry only items that you need at least once a week and choose a style of wallet that fits your needs
Choose handsewn wallets using saddle stitching technique for decades (if not more) of durability
Check out our handmade leather wallets range. I am sure you will find one you'll love and cherish for a long time.